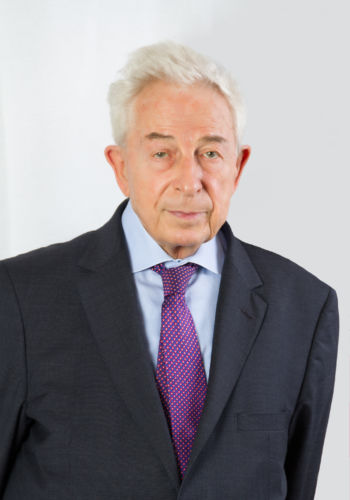 Alberto Bercovitz Rodríguez-Cano
Alberto Bercovitz is a renowned specialist in Commercial Law, especially in the fields of Industrial Property, Intellectual Property, Advertising, Unfair Competition and Competition Law. He has combined his academic vocation with the practice of law, participating in major arbitration proceedings as an arbitrator and assuming the legal representation in relevant judicial proceedings.
Professor Bercovitz has been Professor of Commercial Law at the Universities of Murcia, Salamanca and UNED. He is currently Professor Emeritus at the UNED, where he was also Vice-Rector. In addition, he is Dr Honoris Causa of the Universities of Lyon III, Jean Moulin-1987, Zaragoza-2007 and Buenos Aires-2007.
Since 1970, Mr Bercovitz has been a Permanent Member of the Commercial Law Section of the General Legislation Commission of the Ministry of Justice and, since 2006, he has been the Chairperson of the said Section, participating in the preparation of draft legal provisions on commercial companies, consumers, mutual guarantee companies, and trade representatives. In his capacity as Chairperson of the Trade Law Section, he directed the Proposal for the Draft Commercial Code, published by the Ministry of Justice in 2013. He is also the author of the Draft Patent Act of 1986.
Alberto Bercovitz has also been the Chairperson of numerous associations, including:
ATRIP (Association for Intellectual Property Education and Research) (1989-1991).
ALADDA (Association for the Defence and Study of Copyright Law) (1991-1995)
AIPPI (International Association for the Protection of Intellectual Property) (1992-1996)
Competition Law (2001-2005)
Coordinator of the Academy of the World Intellectual Property Organisation (WIPO) for Latin America (Geneva 1993-4).
Member of the Scientific Advisory Committee of the Munich Intellectual Property Law Center (2004-2011)
He has also been a member of Spanish delegations attending International Conferences:
The Hague Conference on Private International Law applicable to Consumer Sales (1982-1983)
Industrial property, Nairobi 1981
Alberto Bercovitz has been Chairperson of the Intellectual Property Mediation and Arbitration Commission of the Ministry of Culture, Chairperson of the National Consumer Arbitration Board of the Ministry of Health and Consumer Affairs, and Chairperson of the Advertising Self-Regulation Council.
He is the author of numerous papers and has spoken at events in Spain, in various European countries, and almost all Latin American countries. He is also a member of the Editorial Board of various publishers and magazines.
Aptissimi Award for Academic Excellence awarded by the ESADE Alumni Law Club (July 2012)
Academic Award of the Spanish Association of Minority Shareholders of Listed Companies (February 2014).
Julio Delicado Award.
In 2015, Alberto Bercovitz was awarded the Grand Cross of the Order of St. Raimundo of Peñafort.
Gold Medal of the Royal Academy of History.
Full Member of the Royal Academy of Jurisprudence and Legislation since 2017.